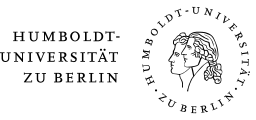 German Intensive Course (DaF) – study preparatory
This course is offered for program students who participate in:
the ERASMUS+ program, or
other university partnership programs,
and who will spend one or two semesters studying at the Humboldt-Universität zu Berlin.
Students from other universities can only be admitted to the course upon request.
The course covers the language level A1–C2 and focuses on the following topics:
grammar,
conversation,
writing,
reading and listening comprehension.
Therefore, it does not prepare you for a specific area of study.
---
Please choose your course period: