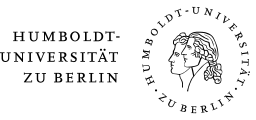 German Intensive Courses (DaF) – HU German Language Academy
These German Intensive courses (DaF) are offered for international students/alumni:
HU partner universities,
DAAD scholarship holders,
international students,
foreign instructors (DaF).
The courses cover the language level A1.2-C2 and are structured as follows:
Comprehensive German classes (grammar, conversation, writing, reading and listening comprehension) in the mornings and
Academic lessons about the culture and history of Berlin and Germany in the afternoon.
Our summer or winter modules can be combined into an 8 or 6 week German Intensive course.
Due to the regulations of the Berlin Senate against the spread of the corona virus, we unfortunately have to cancel all German courses during our HU GLA Summer Program 2020! Please visit the HU website for further updates on the situation at the HU.
Update HU GLA Winter 2021: We will offer German-Intensive courses online! Please note,that the registration for these courses is still subject to change. Therefore, please do not transfer any course fees until further notice! If the course takes place as planned, we will send you a separate payment request.
The online registration for our Summer and Winter Program 2021 is closed!
For our HU GLA Program 2021: All applicants from China are supposed to register through Dexin International EdTech Co., Ltd.: service@dexin-world.com!
---
Please choose a period in our HU GLA Program:
Winter Program 2021 (Online)